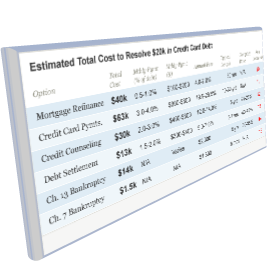 HIGHLIGHTS
Check out our innovative Debt Comparison chart.

Prioritize your own concerns and then find the right debt solution for your own needs.

Do your own research and compare options and providers.
Compare ways to get out of debt by cost, time, and impact on your life and credit score.
Staying in control of your debt and paying it off as soon as possible — ideally paying off all your cards in full every month — should be everyone's goal. However, life can sometimes get in the way and instead of paying off debt it can build. This handy table compares the main approaches to managing debt (be sure to check the footnotes carefully to get a good understanding of each option and how we calculated the results). For a more complete discussion of the main options for handling a debt burden, read the entire Bills.com guide to debt relief options.
Here is a simple and quick table to evaluate debt payoff options:
Estimated Total Cost to Resolve $20k in Credit Card Debt
Option
Total Cost
Monthly Payment
(% of debt)
Monthly Payment
Annual Fees
Mortgage Refinance
$40k1
0.5-1.0%
$100-$200
4.0-7.0%
Credit Card Pymts.
$63k2
3.0-4.0%
$600-$800
19.9-29.9%
Credit Counseling
$30k3
2.0-3.0%
$400-$600
12.0-14.0%
Debt Settlement
$13k4
1.5-2.0%
$300-$400
5.0-7.0%6
Ch. 13 Bankruptcy
$14k5
N/A
Varies
$2,000
Ch. 7 Bankruptcy
$1.5k
N/A
N/A
$1,500
Option
Typical Length
Complete Rate
Key Concerns
Mortgage Refinance
30 yrs
N/A
10
Credit Card Pymts.
10-30 yrs
N/A
11
Credit Counseling
5 yrs
21-26%7
12
Debt Settlement
3-4 yrs
40-45%8
13
Ch. 13 Bankruptcy
5 yrs
30-35%9
14
Ch. 7 Bankruptcy
6 mos
N/A
15
See table below for explanation of footnotes.
Overview of Debt Consolidation Options
It is challenging to compare each debt consolidation option side-by-side, since each debt solution is unique. Some debt relief options are new loans, some require home-ownership, and some are very aggressive and only for consumers with serious financial hardship. We compared your options and put everything on the table so that you make the right decision for your own needs. Below are more details on each debt option. Do your own homework and verify the facts for your own financial situation.
Mortgage Refinance
You may be able to consolidate your debts with a home equity loan, mortgage refinance or other debt consolidation loans. If you're confident that you will to make the payments without building more credit card debt, debt consolidation refinance loans can be an excellent path to reducing your payments, lowering the total cost of your debts, and a refinance mortgage loan can also possibly reduce your taxes. You must be a homeowner to qualify for a mortgage refinance loan, and usually have excellent credit and significant equity accumulated in your home. You can learn more at the Bills.com refinance portal or even apply with Bills.com's approved lenders.
Credit Card Payments
Making the minimum monthly payments on your credit cards can be a dangerous financial strategy. Although it may feel good to push a growing problem off to another month, if you have high interest rates and a credit card debt balance that has grown to become a problem it just might be time for a gut check and to look in the mirror.
We recommend that everyone try to pay off their debts in full each and every month, especially credit card and high interest revolving debt. If you cannot manage to do that, make sure that you are aware of the true lifetime cost of that debt and what all of your debt payoff options are, and don't just blindly keep on the treadmill of making minimum payments.
Credit Counseling
Credit counseling is a program that enrolls you on a debt management plan (DMP), which usually allows you to qualify for concession rates from your creditors. The primary benefits of a credit counseling program are lower interest rates and lower payments.
Credit counseling, or signing up for a debt management plan, is a very common form of debt consolidation which is essentially a way to make one payment directly to the credit counseling agency that then distributes that payment to your creditors. Most times, a credit counseling agency will be able to lower your monthly payments by getting interest rate concessions from your lenders or creditors. Credit counseling is like aspirin for a mildly sick patient, where a little help and medicine solves a real pain or financial problem.
It is important to understand that in a credit counseling program, you are still repaying 100% of your debts — but with lower monthly payments. On average, most credit counseling programs take around five years. While most credit counseling programs do not impact your FICO score, being enrolled in a credit counseling debt management plan does show up on your credit report, and, unfortunately, many lenders look at enrollment in credit counseling akin to filing for Chapter 13 Bankruptcy — or using a third party to re-organize your debts. You can learn more about this debt solution at the Bills.com section devoted to credit counseling.
Debt Settlement
Debt settlement services offer to negotiate and settle your debts for less than you owe, many times reducing debts by as much as half, before provider fees. Debt settlement is an option for people who cannot afford their monthly payments, and who are not worried if their credit rating will be negatively impacted during the program. It's important to be aware that you are not making monthly payments and staying current on your debts while enrolled in a debt settlement program, so be aware of the credit impact and the potential collection harassment from your creditors. Debt settlement is also a very aggressive form of debt consolidation, and it is akin to chemotherapy for a seriously ill patient — it will hurt but will hopefully kill the cancer and get you financially stable and healthy again quickly.
Unlike other forms of debt consolidation, debt settlement is based on the future resolution of your accounts, which means that results vary significantly and it is very important to work with a qualified and accredited provider.
Bankruptcy — Chapter 7 and Chapter 13
Bankruptcy should be your last choice for getting out of debt because it will damage your credit for 7-10 years and, depending on which type of bankruptcy you file for, you could be forced to give up some of your assets or assigned a long-term payment plan. There have also been legal changes put in place by congress that make it more challenging to qualify for a Chapter 7 Bankruptcy, forcing many people to file for a Chapter 13 Bankruptcy which is really a repayment plan.
Quick Debt Relief Options Evaluation Decision Tree
Here are four fast tips for your own quick Debt Consolidation Evaluation:
If you have perfect credit and have equity in your home — consider a Mortgage Refinance.
If you can afford a healthy monthly payment (about 3% of your total debt each month) and you want to protect yourself from collection and from going delinquent — consider Credit Counseling.
If you want the lowest monthly payment and want to get debt free for a low cost and short amount of time, and you are willing to deal with adverse credit impacts and collections — then evaluate Debt Settlement.
If you cannot afford anything in a monthly payment (less than 1.5% of your total debt each month) — consider Bankruptcy to see if Chapter 7 might be right for you.
Bills.com makes it easy for you to apply for debt relief with pre-screened debt relief providers. If you want to see a very innovative side-by-side comparison, including a chart comparing payments, cost, time and success metrics then check out the Bills.com Debt Options Whitepaper.
Ways to Manage Debt on Your Own
If you feel like you have too much credit card debt, but it has not spiraled to the point where it is a problem, we also have some quick and simple advice on how to manage your own self-directed credit card pay-off strategies:
Paying minimum payments each month should be avoided, if possible. If you are able to pay more than the minimum payment, you can save hundreds or thousands in interest. Credit card interest rates can go as high as 29%-39%! The larger your monthly payment, the faster you will pay off the debt and the less interest you will pay. For example, take a credit card debt of $10,000 with a 22% interest rate. If you continued to only make the minimum payments (4% of the monthly balance), it will cost you $18,216 and take 14 years to become debt free, largely because the minimum payment drops each month as you pay down your debt.
Paying a constant amount each month could save you thousands and will clear out your debt in far less time than paying the minimum amount. For the same scenario above ($10,000 debt and 22% interest rate), a constant payment of $400 per month would cost only $13,094, taking you 3 years to become debt free.
If you are carrying balances on multiple credit cards and can afford more than the minimum payment, you should consider the following strategies. To be effective, both strategies require you to continue paying the same monthly amount towards your debt until all debts have been paid off. Once a credit card has been paid off does not necessary mean you can reduce how much you should pay towards your debt. Maintaining the same monthly amount (or even increasing the pay-down amount) will help you get out of debt that much faster and reduce the total cost of your debt.
Avalanche Pay Off — The avalanche method involves paying off your credit cards in the order of the highest interest rates. Once you have decided how much you can afford each month, allocate enough money to only pay off the minimum payment on each credit card. Then apply all the remaining funds to paying off the card with the highest interest rate. Once the first credit card has been paid off, apply every dollar you were using to pay off the highest-interest card and add it to what you were already sending to the second highest-interest credit card. Keep following this strategy and continuing paying the same amount each month towards your debt until all debts have been cleared. Using the avalanche method can result in greater savings by paying less interest in the long run.
Snowball Pay Off — The snowball method involves paying off the lowest debt amount first. Like the avalanche method, budget enough money to pay off the minimum payment on all cards. Then apply any remaining funds towards paying off the credit card with the lowest balance. Once you have paid off the first credit card, continue paying the same monthly amount you started with. Follow the same strategy as the first credit card: Pay only the minimum payments on all other cards while using all the remaining funds to pay off your second lowest debt. Although the snowball method may be more costly than the avalanche method, seeing even a small debt eliminated often helps motivate people to stick to the discipline of paying down debts.
You are armed with the credit card debt tips and solutions to start your journey. Get on the right path and stay committed to getting rid of that nasty credit card debt and on to a bright financial future.
---
Footnotes to Debt Comparison Table

| | |
| --- | --- |
| 1. | Assumes 6% interest amortized over a 30-year fixed-rate mortgage. |
| 2. | Assumes credit card interest rate of 24.9% and minimum payment that is the higher of 3.0% of debt balance and $25. |
| 3. | Assumes credit card rates are reduced to 11.9%, and adds debt management program fee of $50 per month. Payment is fixed at $500 or 2.5% of starting debt. |
| 4. | Assumes average settlements of 50% and total fee of 21% of debt. |
| 5. | Assumes 60% of debt paid, plus $2,000 filing fee. |
| 6. | Based on 21% total fee, and a typical program length of 3-4 years. |
| 7. | "Credit Counseling in Crisis: The Impact on Consumers of Funding Cuts, Higher Fees and Aggressive New Market Entrants," Consumer Federation of America and National Consumer Law Center, April 2003. |
| 8. | TASC survey of member companies, 2008. |
| 9. | "Bankruptcy by the Numbers: Measuring Performance in Chapter 13," by Gordon Bermant and Ed Flynn, Executive Office for the U.S. Trustees. |
| 10. | Must own home with equity and have a good credit rating. Potential to get stuck in a mortgage you cannot afford. Debt becomes secured putting home at risk if payments cannot be met. |
| 11. | Monthly payment obligation is significant. Late fees and high default interest rates kick in if payment is missed. |
| 12. | Certain creditors may not agree to concession rate. IRS audit of industry has resulted in revocation of non-profit status from many companies. Minimal impact on credit score. May be viewed by credit issuers negatively. |
| 13. | Payments are not made to creditors — credit rating is impaired. Collection calls and potential legal action on delinquent accounts. |
| 14. | Severe credit rating impact. Bankruptcy reform in 2005 requires means test, making it harder to qualify. |
| 15. | Severe credit rating impact. Bankruptcy reform in 2005 requires means test, making it harder to qualify. |
Thanks for your feedback!