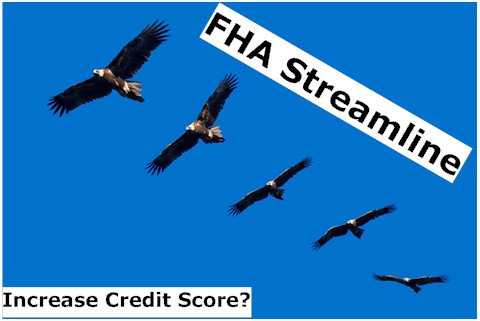 Thank you for your question about FHA Streamline Refinance and credit scores.
The FHA streamline refinance loan program was designed to help FHA loan borrowers refinance their loans in order to lower their interest rates, lower their payments, and/or move to a stable loan. For example move from an ARM (Adjustable Rate Mortgage) to a FRM (Fixed Rate Mortgage).
Just recently, the FHA, under President Obama's directive, lowered the MIP (mortgage insurance premium rates) on FHA streamline refinance loans. (Note: The rates for regular FHA loans were increased).
In order to help you find a FHA loan take the following steps, learn about:
Basic Eligibility and Costs
Lender's FHA Credit and other Extra Requirements
FHA Streamline - Shopping Around
FHA Streamline Loans - The Basic Requirements
In order to be eligible for a FHA loan, you need to meet the following basic requirements:
Current loan is a FHA loan
You are current in your payments
You have a tangible benefit, usually through lower monthly interest and principal payments.
In general the FHA streamline loan does not require:
An appraisal on the property. Even if an appraisal is used and it hurts the borrowers chance to refinance, the lender can disregard the appraisal. In effect the FHA streamline refinance allows for an unlimited LTV.
A credit report. In general this is not required, unless the loan is a "credit qualifying loan".
A minimum credit score. If it exists,a credit score must be entered,in the underwriting system for each borrower.
Employment or income verification.
However, a FHA streamline loan does require a "net tangible benefit", which is defined as lowering your monthly mortgage payment (principal, interest, and mortage insurance payment) by more than 5%.
More stringent credit requirements (or a "credit qualifying loan") exist for a FHA streamline refinance loan including:
verification of borrower's credit report and income.
computation of DTI ratios
evaluation that the borrower can meet the new mortgage payments.
There are several technical reasons for a loan to be defined as a "credit qualifying loan" including terms of assumption of a loan, and deletion of a borrower. However, one of the main reasons is if the new mortgage term will cause an increase of more than 20% in the mortgage payment.
In general most borrowers who have held the loan for more than 6 months are eligible for a FHA streamline refinance loan. Note: You must have made at least 6 payments and at least 210 days have elapsed since closing on the current FHA loan.
June 2012 Update: The FHA streamline refinance MIP, for original FHA insured loans originated before June 2009, recently decreased. Upfront MIP is only 0.1%. Annual MIP is only 0.55%.
FHA Streamline Refinance Loan - Extra Requirements
Update
: According to a
new reports from National Mortgage News
the biggest lenders including, Wells Fargo, PHH Mortgage, and JP Morgan Chase (JPM) began in June 2012 to only do FHA streamline loans that they are currently servicing. It is estimated that Wells Fargo and JPM have a combined market share of 47% of FHA loans.
You have already experienced the effects of lenders stricter underwriting requirements. Although the FHA loan was designed to allow an easy process with no LTV, employment, credit or income requirements, the HUD underwriting guidelines do allow for the lender to apply stricter requirements (or overlays).
One of the more common overlays is the credit score requirement. Although FHA loans have easier credit score requirements, many lenders require a score over 580 or 620. The same tougher overlays is true for FHA streamline loans. In fact, many lenders (such as Quicken Loans Feb 2012 policy) require at least a 640 FICO score, not just the 620 score your wife has.
Getting a FHA Streamline Loan
Your situation is frustrating, especially since the Obama Administration is trying to get the lenders to help underwater and struggling borrowers make their loans more affordable. The goal is to lower your costs, stabilize the housing market, and put more dollars in the economy.
However, your situation is not without hope. I suggest that you take these steps:
Continue to make your mortgage payments on time.
Improve your credit scores. Your wife's credit score can be rebuilt, although this does take time. Monitor your reports, dispute incorrect negative items, and do pay for deletes if possible on negative entries.
Explain to the lender any compensating factors, including assets, savings or higher income (lower DTI).
Shop around. Since your current lender, VHDA, is not doing refinance loans, you need to seriously shop around. There are niche lenders that provide FHA streamline refinance loans with lower FICO score.
Quick tip
: Shop around and get a free
mortgage quote
for a FHA streamline refinance loan from one of Bills.com mortgage providers.
Thanks for your feedback!