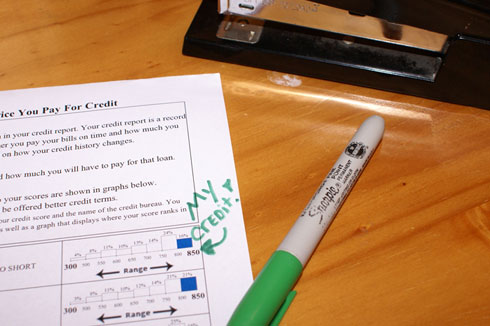 HIGHLIGHTS
Receive one FREE credit report a year from any of the three major credit bureaus once a year.

Dispute any incorrect information that appears on your credit report.

Maintain an excellent credit rating, so you will be eligible for the best interest rates available.
Free Credit Report: Why You Need One!
Your credit rating is an important measure of your financial health. You may not give your credit rating much thought, until you are about to apply for a credit card, a mortgage, or a car loan. However, having a good credit rating will help you qualify for the best interest rates available. Obtaining the best rates available can save you of hundreds or even thousands of dollars over the life of a loan. Therefore, work on building and maintaining your credit rating, so you can demonstrate your creditworthiness to any prospective lender. When you have good credit, you will more easily accomplish the financial goals you set for yourself.
Your credit score is used in determining your interest rates, the amount of your down payment that is required on a mortgage, and the variety of mortgage types available to you if you're buying a house. It also affects your ability to get a car loan and the interest rate on your car loan, the premium on your auto or homeowner's insurance, and even can affect your ability to get a job. If your FICO credit score is on the low side, you will pay a higher interest rate on loans and credit cards. To get the best interest rates, your credit score should be 720 or above.
What is a Credit Report and How Can I Get One?
A credit report lists many of your debts and your record of paying on them. An entry on your credit report will show how long your account has been open, your current balance, the maximum credit line you have been granted, what your last payment was, and whether or not you have paid your bills in a timely manner.
You are entitled to one free credit report from each of the three main credit bureaus each year. The Fair Credit Reporting Act, a federal law, requires the three major reporting agencies (Equifax, Experian and TransUnion) to provide you with a no-cost copy of your credit report once every 12 months, but only if you request it. It will not be automatically sent to you every 12 months. However, each agency will most likely have a different score for you depending on the particular credit information provided to that particular agency. So, if you want a better idea of what your credit score actually is, request your credit score from all three agencies and figure out the average.
To get a hold of your credit report, contact one of these three bureaus. Each bureau interprets your credit information differently, so you might want to get a report from all three.
By law, you can access one free report every twelve months from each of the three credit bureaus at AnnualCreditReport.com. If you stagger your requests at the site, then you can access one of the bureaus every four months. You can also request a free copy of your credit report if you are denied credit; however, you can only request a copy from the specific credit bureau that supplied the credit report to the creditor who denied you.
What's my FICO Score?
The FICO score, which rates your credit on a scale from 300 to 850, is used with slight variations by the three major credit bureaus: TransUnion, Experian, and Equifax. This credit rating is used to measure your credit risk. You can obtain your FICO through most major consumer reporting agencies in the U.S. While the different credit bureaus have access to the same financial information, your score will likely vary from credit bureau to credit bureau, as they each weigh the information differently. Whenever you try to finance a purchase, such as applying for a car, home, or boat loan, or apply for a credit card or line of credit, the creditors obtain your FICO score; however, your score is not released to you. You can find out your FICO score on your own, but the creditors with whom you apply for financing do not have to provide you with the financial information they find out about you. However, if you are turned down for financing, creditors and lenders are required to provide you with a reason why you were turned down and, if your credit score was a factor, your credit score. They are also required to specify which credit agency they used to establish your credit score.
How to Improve a FICO Score
Here are four steps to improve a credit rating:
1. Pay off all debts and keep revolving lines below 30% utilization. Do not "max out" your credit cards.
2. Diversify your credit portfolio. Have a mixture of different types of accounts. For example, you have only a Visa, MasterCard, or Discover card, get a department store credit card or card from a gasoline retailer. Maintain at least three active trade lines in good standing at all times.
3. Make your payments every month on time! Leave a small balance every once in a while to show that you are able to handle debt on more than one account.
4. Keep your oldest credit account active. Remember point number three "Length of positive credit history" discussed above.
5. Pull your credit report and contest any inaccurate information so that it can be corrected by the credit bureaus. Go to the Bills.com debt self-help center for sample dispute letters. The credit bureaus must follow the rules set forth by Congress in the Fair Credit Reporting Act (FCRA).
If you would like to learn more about credit reports, credit scoring, and what it means to you, I encourage you to explore the wealth of material offered by the Bills.com credit information page.
Summary
Your FICO score says a lot about you. It is used by creditors to establish your credit ranking and determine your interest rate on loans and financing. The higher your FICO score, the lower your interest rate will be. So stay on top of your monthly credit card, mortgage, and even cable bills, and pay everything on time. If not, your credit could plummet.
Thanks for your feedback!