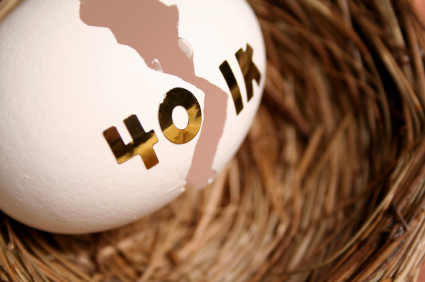 A 401(k) plan is a type of tax-qualified deferred compensation plan in which an employee can elect to have the employer contribute a portion of his or her cash wages to the plan on a pre-tax basis. These deferred wages (commonly referred to as elective deferrals) are not subject to income tax withholding at the time of deferral, and they are not reflected on your Form 1040 since they were not included in the taxable wages on your Form W-2.
However, they are included as wages subject to Social Security, Medicare, and federal unemployment taxes.
Many 401(k) plans allow employees to make a hardship withdrawal because of immediate and heavy financial needs. Generally, hardship distributions from a 401(k) plan are limited to the amount of the employee's elective deferrals only, and do not include any income earned on the deferred amounts. Hardship distributions are not treated as eligible rollover distributions.

If debt problems are the reason you are looking to take out money from your 401(k), get a
no-cost, no obligation analysis of your debt options
from a pre-screened specialist. It makes sense to evaluate your debt options in parallel with exploring 401(k) hardship qualifications.
401(k) Hardship Withdrawal Basics
A hardship withdrawal is not like taking a loan from your 401(k) account. The withdrawal may be difficult to get, and costly if you receive it. Remember, your 401(k) is meant to provide retirement income. It should be a last-resort source of cash for expenses before then. IRS rules allow plan withdrawals in a limited number of hardship situations. To further discourage early withdrawals, in some cases the IRS imposes a hefty financial penalty.
Two types of hardship withdrawals are permitted from 401(k) plans. One subject to applicable income taxes plus a 10% early withdrawal penalty tax if you are younger than 59½. The other is a penalty-free withdrawal made under Section 72(t) of the Internal Revenue Code. With this, you pay applicable income taxes but not an early withdrawal penalty.
401(k) Distributions and the 10% Penalty Tax*
Subject to 10% Penalty Tax if You Are < Age 59½
Exempt From 10% Penalty Tax
Source: IRS Topic 558 and 401(k) Resource Guide - Plan Participants - General Distribution Rules
• Expenses for medical care previously incurred by the employee, the employee's spouse, or any dependents of the employee or necessary for these persons to obtain medical care;
• Costs directly related to the purchase of a principal residence for the employee (excluding mortgage payments);
• Payment of tuition, related educational fees, and room and board expenses, for the next 12 months of postsecondary education for the employee, or the employee's spouse, children, or dependents;
• Payments necessary to prevent the eviction of the employee from the employee's principal residence or foreclosure on the mortgage on that residence;
• Funeral expenses; or
• Certain expenses relating to the repair of damage to the employee's principal residence.
• Distributions made to your beneficiary or estate on or after your death.
• Distributions made because you are totally and permanently disabled.
• Distributions made as part of a series of substantially equal periodic payments over your life expectancy or the life expectancies of you and your designated beneficiary. If these distributions are from a qualified plan other than an IRA, you must separate from service with this employer before the payments begin for this exception to apply.
• Distributions to the extent you have deductible medical expenses that exceed 10% of your adjusted gross income (7.5% if you or your spouse is 65 or over) whether or not you itemize your deductions for the year. The 7.5% limitation is a temporary exemption from January 1, 2013 to December 31, 2016 for individuals age 65 and older and their spouses. For additional information, see our questions and answers. For more information on medical expenses, refer to IRS Topic 502.
• Distributions made due to an IRS levy of the plan under section 6331.
• Distributions that are qualified reservist distributions. Generally, these are distributions made to individuals that are called to active duty for at least 180 days after September 11, 2001.
For 401(k)s and similar plans (but not IRAs), these three exceptions also apply:
• Distributions made to you after you separated from service with your employer if the separation occurred in or after the year you reached age 55, or distributions made from a qualified governmental defined benefit plan if you were a qualified public safety employee (State or local government) who separated from service on or after you reached age 50.
• Distributions made to an alternate payee under a qualified domestic relations order, and
• Distributions of dividends from employee stock ownership plans.
* You may receive a hardship distribution because of an "immediate and heavy financial need" and the distribution "is necessary to satisfy that financial need."
Remember, employers are not required to offer either type of hardship withdrawal, so you should check with your employer to see which type, if any, is available to you.

Concerned about what is appearing on your credit report now? Check your credit report today and get a
free credit score instantly
.
For more information, see the IRS's 401(k) Resource Guide.
I hope this information helps you Find. Learn & Save.
Best,
Bill
Thanks for your feedback!