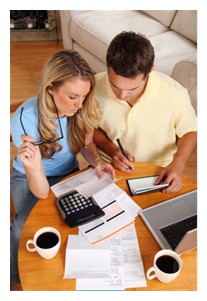 The Vertex42.com online debt reduction calculator works with Microsoft Excel, Google Documents, or Open Office. You can calculate the best debt reduction strategy including the snowball or avalanche techniques, using all of your credit card and installment debt.
After entering all of your debt, you can then choose the best strategy to pay off your debt, by applying a fixed payment (avoiding the minimum payment strategy) in one of two techniques, as follows:
Snowball or Lowest Balance: This technique gives you the quickest psychological positive reinforcement, as you finish paying off at least one of your debts in the quickest period.
Avalanche or Highest Interest Rate: This technique saves you the most money because you pay off the most expensive debt first.
This is a great tool for credit card debt, but mixing it with secured debt and student debt is confusing and makes comparing and deciding a difficult process. Keep it simple by comparing your credit card separately. It is better to create a plan that you can understand and easily follow.
Accelerated Payment Calculator for Mortgage Loans
The easiest way to pay off your debts is to make larger payments. There are different methods depending on the type of the type of debt, long-term (mortgage home loans, student loans or auto loans) or short-term (credit card debt, installment retail loans).
Mortgage payments are based on a long-term contractual agreement between you and your lender. Your payments are set based on the interest rate and payment plan chosen. In general, you pay back your mortgage loan over a 15 – 30 year period. If you want to reduce your debt faster, then consider an accelerated payment schedule. You can make larger monthly payments, bi-monthly payments, or large periodic (annual, semi-annual, etc.) payments.
In order to see how much you can save use the mortgage-x.com extra payment calculator. You enter the loan amount, interest rate, starting date, term of the loan. The calculator lets you choose whether you want to make monthly payments (1/12 of monthly payment or you set the amount), or annual payments.
Here is an example based on mortgagex.com extra payment calculator: