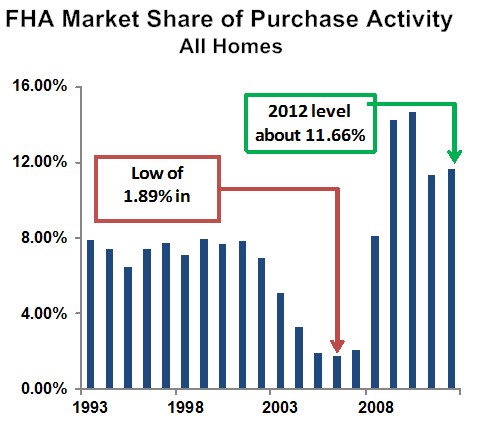 FHA: Steps to Avoid a Bailout — A Look Back at 2012
Here are some of the steps that the FHA has taken to increase its revenues or cut its losses:
Increased supervision over lender network: This includes better supervision over lenders' compliance with underwriting and service requirements.
The National Mortgage Settlement, which targeted big lenders for their poor foreclosure activities, brought in $1 billion of income.
Increased down-payment requirements: The FHA increased credit score requirements to 580 (from 500) for the 3.5% down-payment requirement. They also eliminated seller funded down-payment assistance programs
Based on the 2012 Actuarial report the 2005-2008 loans contributed about 1/3 of the total losses. The loans with credit score under 580 and/or seller-funded down-payment assistance accounted for more than 44% of these losses.
Increased Mortgage Insurance Premiums (MIP): Since 2009, the FHA has raised the MIP four times, including once in 2012. The current standard rate is an upfront fee of 1.75% and a monthly fee of 1.15 or 1.25%.
The FHA has increased revenue by more than $10 billion since 2009. Their policy has been to tread lightly and provide a counter-balance to the housing crisis and keeping credit available, especially to first-time buyers and weaker sectors.
Asset Management: The FHA is also improving their portfolio by selling non-performing loans and improving the sale and management of foreclosed properties.
The FHA has reduced the time in inventory by 45% and decreased the gap between appraised values and sales prices by 62%
FHA: A look Ahead to 2013 — New FHA Loan Requirements and Actions
In order to bolster their financial position the FHA is considering the following steps:
Change MIP cancellation policy
Increase minimum credit score
Lower Loan Limits
MIP Policy — Increase Fees and Change Cancellation Policy
Raise MIP Fees: The FHA is already planning on raising the mortgage insurance premiums in 2013 at least another 10 basis points, or 0.1%. That translates to another $200 per year for a $200,000 loan.
Cancel Termination Policy: Currently the FHA provides a lifetime guarantee for loans it books; however, in general, the borrower only pays premiums until the loan reaches a 78% loan to value ratio (LTV), based on the original value of the house and the original payment schedule. In contrast, Private Mortgage Insurance (PMI) has limited coverage (not 100% of the loan, but up to 30%. PMI has an automatic termination clause, generally 78%. Once terminated the borrower no longer pays for the insurance and the lender is no longer covered for potential losses.
Because of the drop in housing values, the FHA is facing increasing amounts of loans in which the borrower no longer pays for insurance, but the FHA still guarantees 100% of the loan. Sec. Donovan indicated in his remarks to the Senate Banking Committee on December 6, 2012, that there will be an increase of 10 basis points, or 0.1% on FHA loans, beginning in 2013.
Tighten Underwriting Policies
A major criticism of the FHA is that it is carrying a loss due to its very lenient loan underwriting process. This included the following elements:
Increase the minimum credit score: The FHA's current policy of a minimum credit score of 580 (for loans with 3.5% down-payment) is not in line with other mortgage programs and lenders policies. The general rule is a 620 credit score.
Sec. Donovan did not commit to any firm number, however indicated that there is a need to create new underwriting rules.
Lower Loan Limits: The FHA loan limits are significantly higher than Fannie Mae and Freddie Mac conforming loan limits. Currently, the standard conforming loan limits are $625,500, while the FHA's loan limits are $729,000.
Sec. Donovan came out in favor of lowering loan limits, however he indicated that this will require Congressional action. According to an FHA announcement of December 12, 2012, the 2013 maximum loan limits are not changing.
Post-Foreclosure Requirements: The FHA has less stringent past-foreclosure requirements, allowing a borrower who experienced a foreclosure to qualify for an FHA loan after a 3-year waiting period, versus Fannie Mae and Freddie Mac's 4-7 year waiting period.
Once again, while there is pressure to establish stricter credit requirements, the FHA is not committing itself to these changes. Sec. Donovan believes that there needs to be opportunities for those hit by the economic crisis, including borrowers who may have had a foreclosure.
FHA Loans: New Loan Requirements and Fees?
The FHA is suffering huge losses, mainly due to poor loans it booked during the 2005-2008 period. The huge downturn in housing prices added to their losses and created a potential for a treasury bailout.
During 2012, the FHA has already taken steps to improve its financial position, including improving the management of their portfolio and increasing prices to the consumer. The FHA, being an important player in today's mortgage market, is trying to balance between profitability and supply.
FHA loans are an important source of loans for borrowers with lower credit scores and/or lower down payments. This is especially true for first-time homebuyers. Upcoming changes, including the increase in MIP will certainly change the market.
Bills.com will continue to provide updated information about FHA and other mortgage loan requirements.