Since first writing our review of Lexington Law and evaluating their services in particular, and credit repair more generally, we received hundreds of comments from clients and consumers.
There is nothing any credit repair organization can legally do for you — including removing inaccurate credit information — which you can't do for yourself, for free. However, many consumers decide that it is worth paying an organization to take care of these matters for you. The fees can be substantial, ranging from hundreds to thousands of dollars.
The Credit Repair Organizations Act (CROA), a federal law, prohibits credit repair organizations from taking consumers' money until they fully complete the services promised. It also requires such firms to provide consumers with a written contract stating all the services to be provided and the terms and conditions of payment. Consumers have three days to withdraw from the contract.
Credit repair is not effective for current, unpaid debts. Even if current debts fall off a credit report, they will reappear at the next reporting period. You need to get out of debt before seeking to remove a debt from your credit report.
Image Source: Trinity Credit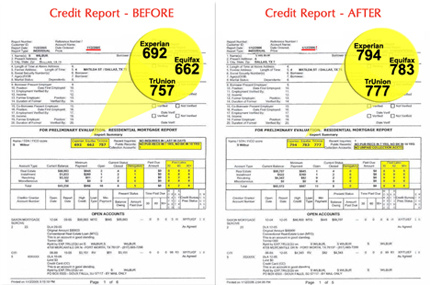 Lexington Law Review
The activities of credit repair companies are constrained by the Fair Credit Reporting Act (FCRA) and the Credit Repair Organizations Act (CROA);we at Bills.com are not in a position to be able to verify whether or not Lexington Law are fully in compliance with these and other federal and state laws and regulations. Any consumer wishing to use the services of a credit repair company must due their due diligence before proceeding.
Under the FCRA, if a consumer credit reporting agency receives what it (in its sole opinion) deems as a frivolous challenge, then that credit reporting agency can ignore the request. Credit repair companies cannot guarantee success because creditors have such a large influence on what appears in a credit report. Also, the credit reporting agencies deal with so much data, it is a mix of art and science for a person or credit repair company to change or delete a listing on a credit report.
Lexington Law has been in business for quite some time. Any company with many clients over a number of years, such as Lexington Law, will generate complaints on consumer Web sites where readers claim the company is a scam. Of course, each consumer needs to do their own homework.
Letter of Deletion
A letter of deletion is a request to remove inaccurate marks from your credit report. A sample letter of deletion is below, and we include instructions for how to submit it online at no cost.
No one can remove accurate and timely negative information from a credit report legally. The law allows you to ask for an investigation of information in your file that you dispute as inaccurate or incomplete. There is no charge for doing this on your own. If you paid the accounts in full and as agreed, then you can try to get them removed.
Following up with the credit bureaus might be a time-consuming proposition, depending on how many items you want to be removed. To get these items removed from your credit report you have two options:
1. Pay For The Services of a Credit Repair Firm
Lexington Law is this type of firm. There are many firms that specialize in the area of credit repair. Be careful about the firm that you choose and make sure that it is a reputable firm. Check with the Better Business Bureau to learn about the performance of a particular company. You need to do proper research on the firm that you will eventually do business with. By law, credit repair organizations must give you a copy of the "Consumer Credit File Rights Under State and Federal Law" before you sign a contract. They also must give you a written contract that spells out your rights and obligations. Read these documents before you sign. The law contains specific protections for you. For example, a credit repair company may not:
Make false claims about their services
Charge you until they have completed the promised services
Perform any services until they have your signature on a written contract and have completed a three-day waiting period.
Suggest you mislead credit reporting agencies about your accounts or alter your identity to change your credit history
Your contract must specify:
The payment terms for services, including their total cost
A detailed description of the services to be performed
How long it will take to achieve the results
Any guarantees offered
The company's name and business address
2. Do It Yourself
Bills.com offers a debt self-help center that can help you solve your debt problems on your own for free. Step one is to obtain a copy of your credit report from each of the three credit bureaus. Do not contact the three nationwide consumer reporting companies individually. Instead, go to AnnualCreditReport.com for no-cost, no-gimmick copies of your credit reports. Alternatively, call (877) 322-8228, or write to Annual Credit Report Request Service, P.O. Box 105281, Atlanta, GA 30348-5281. You may order your reports from all three nationwide consumer reporting companies at the same time, or you can order your report from each of the companies one at a time.
Check your reports for the action items. All the bureaus now have provisions to dispute items online, but in most cases you will need a copy of the respective report and other information to do so. Once you are ready, contact each of the three bureaus at the contact information provided below:
Sample Letter of Deletion
Tell the consumer reporting company, in writing, what information you think is inaccurate. Include copies (not originals) of documents that support your position. In addition to providing your complete name and address, your letter should clearly identify each item in your report you dispute, state the facts and explain why you dispute the information, and request that it be removed or corrected. You may want to enclose a copy of your report with the items in question circled. Your letter may look something like the following:
FTC Sample Letter of Deletion
Date
Your Name
Your Address
Your City, State, Zip Code
Complaint Department
Name of Company
Address
City, State, Zip Code
Dear Sir or Madam:
I am writing to dispute the following information in my file. The items I dispute also are encircled on the attached copy of the report I received.
This item (identify item(s) disputed by name of source, such as creditors or tax court, and identify type of item, such as credit account, judgment, etc.) is (inaccurate or incomplete) because (describe what is inaccurate or incomplete and why). I am requesting that the item be deleted (or request another specific change) to correct the information.
Enclosed are copies of (use this sentence if applicable and describe any enclosed documentation, such as payment records, court documents) supporting my position. Please investigate this (these) matter(s) and (delete or correct) the disputed item(s) as soon as possible.
Sincerely,
Your name
Enclosures: (List what you are enclosing)
Conclusion
Neither Lexington Law nor trying credit repair on your own will resolve debts you still owe. You have to clear your debts before credit repair will work.
Once you resolve the issue with the credit bureaus, follow the steps above to dispute the debt. If the provider reports the item to a consumer reporting company, it must include a notice of your dispute. If you are correct — that is, if the information is found to be inaccurate — the information provider may not report it again.
There are also certain Web sites that provide kits for as little as $13.95, these kits have letter templates and tips to help you repair your credit all by yourself. You can learn more about credit, credit scoring, and credit repair at Bills.com.
Generally we do not believe that firms like Lexington Law, Ovation Law, and other credit repair industry leaders are scams, even though they do have lots of complaints about them on consumer-complaint Web sites. Be sure to evaluate each company's complaint volume against the size of its overall client base and do your own homework and further ensure that the amount you will pay the company seems reasonable to you for the services you will receive — many people fail to do their homework and are unhappily surprised.
I hope this information helps you Find. Learn & Save.
Best,
Bill
Thanks for your feedback!