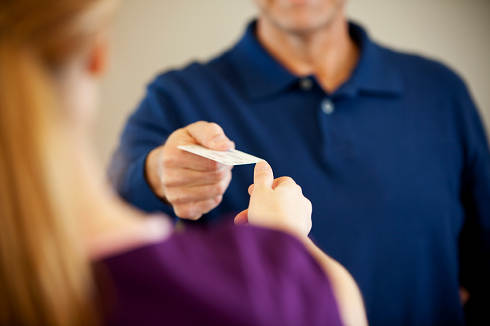 Medical bills are a big problem for many households. According to a 2013 study, medical debt is the No. 1 cause of bankruptcy. You might avoid a staggering medical bill if you qualify for a government, private, or hospital assistance programs. Make sure you understand your bill, and enlist the help of an advocate if you think a medical bill is incorrect. Learn your options if you cannot afford to pay your medical bills.
I'll start with how you can avoid a large medical bill, and what to do if you are surprised by a large medical bill. Let's look at what you can do to find payment help before you have a procedure.
The best time to deal with a large medical bill is before you receive the service. If the procedure is not an emergency, then take these three steps before you sign any contract with the doctor's office, clinic, or hospital:
If you have insurance, either call your insurance customer service people to learn if your procedure is covered, or ask your provider to obtain pre-approval. You may need to change doctors, or ask your doctor to perform the procedure at a different location to obtain the highest amount of coverage from your health insurance provider. Many hospitals will not perform a non-emergency procedure without determining how you will pay for it.
If you do not have health insurance, learn if you qualify for Medicaid, Medicare or a private charity's grant to pay for your procedure. In some areas, United Way's 2-1-1 hotline can help you learn more about private medical payment assistance programs for in your area.
Most hospitals provide patient financial assistance and charity programs to people with low or no income. Be prepared to share details about your household income when you apply for a patient financial assistance or charity program.
Patient Financial Assistance
Patient assistance programs vary, and each hospital calls their programs by a slightly different name. Generally, hospitals offer two types of assistance programs: Charity (no cost to you) and discount programs. Patient financial assistance and charity care programs are designed to be applied for before you receive the treatment, but there are no prohibitions to apply for them after you receive your first medical bill.

Medicaid and Medicare Eligibility
To be eligible for
federal Medicaid coverage
, you must be more than 65 years of age, meet income guidelines or have certain disabilities. Children and pregnant women may also be eligible for benefits. Contact your state Health Dept. about eligibility requirements for Medicaid and Medicare.
Charity programs vary, but often apply if you are uninsured and receive emergency treatment. Qualifications are based on a comparison of your financial resources and income to federal poverty guidelines. For non-elective care, you qualify and receive free care if your household financial resources or income is at or below 200 percent of the federal poverty level.
Discount programs, which are sometimes called financial assistance programs, apply if you are uninsured and do not qualify for Medicaid, charity care or other assistance programs. Your household financial resources and/or income may be greater than 200 percent of the federal poverty level.

Poverty Guidelines
The
federal poverty guidelines
vary each year, where you live, and how many people are in your household. For most states, the 2013 poverty guideline for a one-person household is $11,490. Add $4,020 for each person in your household to learn if you are above or below the poverty guideline.
To qualify for charity or financial assistance programs, you will be asked to complete a form and include either your most recent federal income tax return (for example, a 1040, 1040A, or 1040EZ), or other documents listed in the hospital or clinic's application form, such as your state tax return and pay stubs that verify your income.
Understand and Review Your Medical Bill For Errors
It's no secret medical bills are among the most complicated and confusing most of us will see. The American Academy of Family Physicians published a brief guide to understanding your medical bills. If it appears your medical bill contains an error, discuss the charges with the service provider. Alternatively, consider hiring a consumer advocate such as Health CPA, or Medical Cost Advocate or Insurance Negotiating Service. These three services work on a contingency basis, which means they cost you nothing if they cannot save money on your medical bill.
Negotiate a Settlement If You Cannot Afford to Pay Your Medical Debt
If you exhausted all the options mentioned above, you have four options:
Medical debt sends many households' finances into turmoil, and is the No. 1 cause of bankruptcy in the US. Learn if you qualify for assistance in paying your bill. Contact your local government and charitable groups to learn if you qualify for assistance. Review your bill and dispute any errors. Consider negotiating a settlement to your delinquent medical debt. Enlist the help of a pro if negotiating is not one of your skills.
I hope this information helps you Find. Learn & Save.
Best,
Bill
Thanks for your feedback!