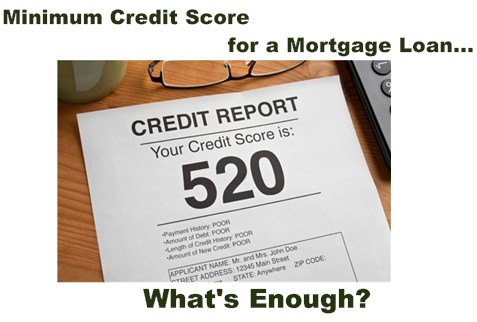 Thank you for your question about minimum credit scores for mortgage loans. Credit scores are one of the important factors in qualifying for a mortgage loan.
There is no simple answer to your question, because the minimum credit score depends on the loan program you apply for and the individual lender's own guidelines and rules. They also depend on other qualifying factors such as your Loan to Value ratio (LTV) and Debt-to-Income ratio (DTI).
The housing and mortgage crash of 2007-2008 reset the underwriting rules and virtually wiped out the subprime mortgage market. If you want to qualify for a loan, then you need to make sure that your LTV, DTI, and Credit Score/History meet the lender's guidelines.
To help you understand about minimum credit scores and mortgages, here are the topics I will cover:
FICO Scores: The Basics
Minimum FICO Scores: Different Loan Types
Qualifying for a Mortgage: Not just Credit Scores
FICO Scores – Minimum Credit Scores
Although there are different credit scores available, the most popular one is the Fair Isaac & Co. (FICO) Credit Score. Mortgage lenders use specific FICO scores to judge your credit worthiness. Although you can purchase Credit Scores and even FICO scores, they are not always the same as the one used by the lender. The FICO score ranges from a low of 300 to a high of 850.
FICO scores are based on your credit history, as reported by the consumer credit reporting agencies — Equifax, Experian, and TransUnion. Here are the top three factors of your FICO score:
Timely Payments: Do you make your payments on time? This is the most important factor.
Credit utilization: How much of your line of credit do you use? For example if you have a $10,000 line of credit, do you use up $9,000, $3,000 or pay off your balances each month).
Credit Mix: Do you have different types of credit such as credit cards, installment loans, mortgage loans, auto loans and student loan?
If your credit score is low, then follow these steps:
Inaccurate Items: Read the Bills.com article about credit repair and learn how to dispute any inaccurate items that appear on your credit report.
Overall Poor Credit: Read the Bills.com article for tips on how to improve your credit score. If your score is low, then you might start with a secured card. Make sure that you set up a budget and make all of your payments on time.
Minimum Credit Score and Types of Loans
In general, most loan programs have underwriting rules that set an acceptable minimum credit score. Lenders often add on their own stricter rules. In addition, lenders take into account other factors such as your loan to value ratio, debt to income ration, and compensating factors such as asset portfolio. For example, a conventional loan with an 80% LTV may require a FICO score of 620, whereas a 95% LTV requires a 720 score.
Here are some general guidelines. Remember, loan programs have many rules and lenders often have even stricter rules. So make sure that you shop carefully.
FHA Loans:
An FHA loan has lenient credit score requirements. The minimum credit score required is 500, but your down payment must be at least 10%. If your credit score is over 580, then you can get an FHA loan with a down payment of 3.5%. The FHFA tightened its requirements, so that anyone with a DTI over 43% and a FICO score under 620 will have a hard time qualifying. (The lender must manually underwrite the loan, carefully documenting the compensating factors.

Most lenders have stricter rules than those set down by the FHA. The general rule is that you must have a Credit Score of at least 620. Also, the FHA loan has high Mortgage Insurance Premiums, as both Upfront Mortgage Insurance and Monthly Insurance Payments are required. Made sure that you shop around for the mortgage most appropriate to your situation.
Conventional Loans (Fannie Mae and Freddie Mac Loans)
Fannie Mae requires at least a 620 for a FRM, 640 for an ARM, and 720 for an I/O. If you want a higher LTV than 80%, then you will need a higher FICO score. If you have a score of over 680, then a Conventional loan is a good option for financing up to 95%% financing with mortgage insurance. Even if your FICO score is lower (over 620), then you may qualify for a conventional loan with 80% LTV. You will need to meet any stricter credit and income requirements, as well as lender overlays.
Jumbo Loans
Jumbo loans whose loan limits are higher for either conforming loans or high-balance loans (super-conforming). For most parts of the US the limit is $417,000 and about $625,000 in high cost areas. There are higher amounts for Alaska, Hawaii, Guam and the US Virgin Islands. The minimum credit score varies from lender to lender. A minimum score of 720 is required although give strong compensating factors, lenders will go down to 680. If you need a larger loan, then your option is a jumbo loan. In general, you will need a strong credit score, LTV under 70% and strong income.
VA Loans
VA loans have less stringent requirements. Lenders generally require a minimum score of 620. A veteran with a VA eligibility card can get up to 100% financing Subprime Loans Subprime loans are for those with poor credit, generally low credit scores, but also other credit history factors or high DTI. They have virtually disappeared since the crash of 2007-2008. Beware of predatory lenders offering high cost loans (interest rates and fees). A loan with an artificially low beginning payment is a high-risk loan.
Special Refinance Programs:
There are special refinance programs, which do not require a minimum credit score, although lenders often have stricter requirements. Here are some of the programs:

HARP 2 Mortgage Loan: If you have a Fannie Mae or Freddie Mac loan, originated and delivered before June 1, 2009, then you may be eligible for a HARP mortgage refinance loan. This is available even if your home is worth less than your loan balance. The HARP loans have no credit requirements if you do the loan through your original lender/same servicer, and a minimum credit score of 620 if you take a HARP loan through a new lender.
FHA Streamline: There is no minimum credit score for a FHA streamline. If your original loan was originated before June 1, 2009, then you can refinance with reduced mortgage insurance premiums.
Qualify for a Mortgage Loan: Not Just Minimum Credit Scores
By correctly preparing your finances, you will qualify for a mortgage that best suits your needs, at the best rates possible. Learning about your credit score is an important step in the mortgage qualification process. Although you will need a minimum credit score to qualify for a loan, it is not the only criteria.
I recommend that you read the Bills.com article about qualifying for a mortgage home loan and learn about two other areas the lender looks at:
Debt to Income Ratio: Controlling your overall debts will help you qualify for a mortgage loan and make your payments more affordable.
Loan to Value Ratio: By saving money and having at least a 20% down-payment, you will be able to avoid mortgage insurance. In general, you will be able to qualify for a mortgage with a lower credit score.
After preparing yourself to qualify for a mortgage loan, shop around.
You will find that different lenders have different criteria. Shop around with different lenders. Not only will there mortgage rates and mortgage fees differ, but you may qualify with one lender and not another lender. Get a mortgage quote from Bills.com mortgage providers.
I hope this information helps you Find. Learn & Save.
Best,
Bill
Thanks for your feedback!