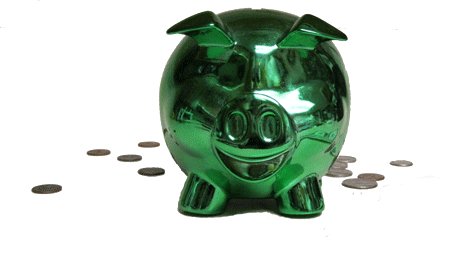 HIGHLIGHTS
Small savings each week can add up to thousands of dollars over a year.

Use coupons when possible.

Avoid impulsive purchases, especially at the grocery store.
11 Quick Ways To Save Money
For many of us, it's easy to spend a few dollars here and there on coffee, drinks out, or entertainment, without giving it much thought. These small expenses can add up and cost hundreds of dollars in a month.
With a little bit of discipline and effort, you can turn these small expenses into thousands of dollars in savings over the course of a year-savings that will allow you to pay down debt, take a vacation, or work towards achieving an important financial goal. Follow these money saving tips on the following categories and then find out how far your dollar can go, by using the Bills.com Savings Machine Calculator. Outside of these clever and fun ways to save, we also always recommend cutting debt out of your life first and foremost, but for now here are 11 simple ways to put more money in your own pocket.
Coffee- Mornings at work can be tough without a cup of Joe. If you can't give up coffee, you can still save money by forgoing your fancy coffee and choosing a cheaper drink. Better yet, go for the free cup of coffee at the office.

Entertainment- Entertainment doesn't always have to cost money. Be on the lookout for free street festivals, parades, concerts, and movies offered in your community. Use your local library's dvds as a free source of entertainment.

Eating Out- Eating out is a great way to relax and spend quality time with friends and family. But if you're eating out a few times a week, it might be one of the first expenses to considering cutting. Cooking at home and bringing lunches to the office cost significantly less than dinning out. If you decide to eat out, you can save by looking for restaurant promotions and specials to get the most out of your money.

Groceries- A trip to the supermarket frequently leads to unplanned spending. It's easy to buy things you don't need; the store is banking on it. To avoid falling into the trap, start shopping with a list. The list will help you keep track of what you need and reduce the likelihood of impulsive purchases. It may not seem much if you've stopped buying some items that look appealing as you walk through the aisles or when you are in the checkout line where the stores place the high impulse items. But, the total amount you save from each trip to the supermarket can be significant and it really adds up when you total your savings over a year's time.

Coupons- Coupons are everywhere. They appear in the store, in your mail, on the merchant's website, at special web sites full of coupons, and in your email. With minimal planning effort, using coupons can save significantly on your shopping bills.

Insurance- Reviewing your insurance policy isn't the most exciting thing, but it can save you money. Dedicate an hour or so to look over your insurance policy and cut back on any coverage you don't need. Compare quotes from your current provider with ones from other companies to find the best deal. Make sure to inquire about all the discounts available.
Cable TV- Cable providers do a great job with offering various channel packages to get you to pay more. . The average cost for basic cable is less than $15.00 per month. Extended basic cable averages over $43.00 per month. Premium cable channels cost even more. Ask yourself if the premium channels are really worth what you pay. Try an experiment and reduce your cable costs to the bare minimum you can handle… and watch your savings add up.

Bottled Water- Thanks to all the marketing and fancy labels, U.S. consumers are lead to believe bottled water is better tasting and safer than tap water. The truth is that tap water is closely regulated by the Environment Protection Agency and perfectly safe to drink. To find out your area's water quality, visit EPA.gov or contact your local water utilities company. Reducing your consumption of bottled water is a great way to save money and also helps protect the environment.

Phone- Disconnect your landline and stop paying double for mobile phone and landline services. Additionally, review your phone bill and your provider's plans and packages to get the best deal.

Gym- Too many people sign up for a gym membership with the best intentions and end up not using going to the gym to exercise. Is your gym membership going to waste? If so, consider alternatives such as exercising at home, outdoors, or at a local park.

Quit Smoking- Not only will your health improve, your health insurance costs drop, and those who love you be pleased, but you will save a lot of money. As every smoker knows, the cost of a pack of cigarettes is a lot higher now than when he or she started smoking… and the costs keep rising.
Top Articles
Thanks for your feedback!