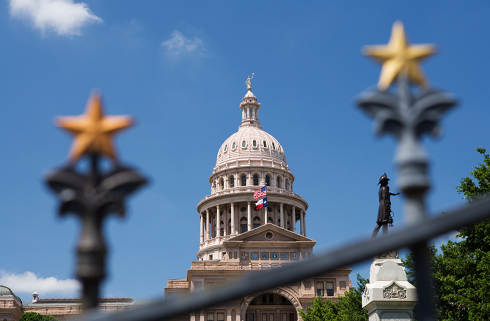 HIGHLIGHTS
Review the means available to a creditor to collect on a judgment in Texas.

Understand that wages in Texas are usually safe from garnishment from an unsecured creditor.
Learn Texas's Rules For Garnishment, Liens, and Foreclosure
A collection agent or law firm that owns a collection account is a creditor. A creditor has several legal means of collecting a debt. But before the creditor can start, the creditor must go to court to receive a judgment. See the Bills.com resource Served Summons and Complaint to learn more about this process.
The court may decide to grant a judgment to the creditor. A judgment is a declaration by a court that the creditor has the legal right to demand a wage garnishment, a levy on the debtor's bank accounts, and a lien on the debtor's property. A creditor that is granted a judgment is called a "judgment-creditor." Which of these tools the creditor will use depends on the circumstances. We discuss each of these remedies below.
Texas Wage Garnishment
The most common method used by judgment-creditors to enforce judgments is wage garnishment. A judgment-creditor contacts your employer and requires the employer to deduct a certain portion of your wages each pay period and send the money to the creditor.

In most states, creditors may garnish between 10% and 25% of your wages, with the percentage allowed determined by state law. Garnishment of
Social Security benefits
or
pensions
for consumer debt is not allowed under federal law, but may be allowed for child support. See the Bills.com
Wage Garnishment
article to learn more.
Texas Garnishment rules are found in Title 3, Chapter 63. Under CP § 63.004 "Except as otherwise provided by state or federal law, current wages for personal service are not subject to garnishment." In other words, Texas outlaws wage garnishment for most debts, but not for delinquent child support, tax, or federal student loan payments.
Generally speaking, 401(K) or other retirement funds are exempt from garnishment. It is advisable to have those funds deposited into a separate bank account to ensure financial accounting if you are concerned about garnishment on those payments.
Levy
A levy means that the creditor has the right to take whatever money in a debtor's account and apply the funds to the balance of the judgment. Again, the procedure for levying bank accounts, as well as what amount, if any, a debtor can claim as exempt from the levy, is governed by state law. Many states exempt certain amounts and certain types of funds from bank levies, so a debtor should review his or her state's laws to find if a bank account can be levied. In some states levy is called attachment or account garnishment. The names may vary but the concept is the same.
In Texas, a levy or attachment is allowed under Title 3, Subtitle A, Chapter 59. Levy is allowed if the plaintiff possesses a legal instrument such as a notice of levy commanding the financial institution for a claim against the account. Texas offers many exemptions for consumers:
Homesteads: Generally 100% exempt, except for:

Purchase money liens
Mechanic's and materialman's liens for work on that property
Taxes

Urban homesteads shall not exceed 10 acres and rural homesteads 200 acres for a family, or 100 acres for a single adult.
Automobiles: Generally 100% exempt from the claims of third party creditors.
Pensions and retirement accounts
Tools of the Trade: Tools, equipment, books, machines used in a trade or profession.
Jewelry: Not to exceed 25% of the dollar limit for personal property, which is $60,000 for a family, $30,000 for a single adult.
Home furnishing, heirlooms, food farming and ranching vehicles, firearms, sporting equipment and certain animals.
A dollar cap on exempt personal property: $60,000 for a family and $30,000 for a single adult.
Workers' compensation claims (Texas Labor Code 408.201)
See Texas Property Code 42 to learn more about the exemptions in the Lone Star State. If you reside in another state, see the Bills.com Account Levy resource to learn more about the general rules for this remedy.
Texas Lien
A lien is an encumbrance — a claim — on a property. For example, if the debtor owns a home, a creditor with a judgment has the right to place a lien on the home, meaning that if the debtor sells or refinance the home, the debtor will be required to pay the judgment out of the proceeds of the sale or refinance. If the amount of the judgment is more than the amount of equity in your home, then the lien may prevent the debtor from selling or refinancing until the debtor can pay off the judgment.
Texas lien law is tricky and tipped in favor of consumers. Texas allows a lien for a money judgment under Title 5, Subtitle B, Chapter 51. Under Title 5, Subtitle B, Chapter 53, mechanics and contractors (and similar laborers and professionals) a have the right to place a lien on a property. This also includes creditors for unsecured debt (credit cards, auto loans, and so on), see Texas law Title 3, Chapter 24.
Texas homeowners can protect their residence by filing a homestead declaration. A Texas homestead is not a flawless shield against creditors, however. A homestead is not exempt from liens, but is exempt from any seizure or forced sale attempting to enforce the lien (Exocet, Inc. v. Cordes, 815 S.W.2d 350, 352 (Tex. App. ? Austin 1991, no writ)).
If you reside in another state, see the Bills.com Liens & How to Resolve Them article to learn more.
Texas Statutes of Limitations
Each state or commonwealth has its own statute of limitations on civil matters. Here are some of Texas's statute of limitations for consumer-related issues:
When the statute of limitations clock starts depends on the circumstances and the particular statute. In most states, the clock starts after the cause of action accrues. Texas follows the general rule (Texas Civ. Prac. & Rem. Code § 16.004(a)). The clock may be paused (called "tolled") under some circumstances, or renewed (Texas Civ. Prac. & Rem. Code § 16.063).

Collection agents violate the
FDCPA
if they file a debt collection lawsuit against a consumer after the statute of limitation expired (
Kimber v. Federal Financial Corp.
668 F.Supp. 1480 (1987) and
Basile v. Blatt, Hasenmiller, Liebsker & Moore LLC
, 632 F. Supp. 2d 842, 845 (2009)). Unscrupulous collection agents sue in hopes the consumer will not know this rule.
See the Bills.com resource Statute of Limitations on Debt if you reside in another state.
Texas Foreclosure
Texas foreclosure laws are found in Title 5, Subtitle B, Chapter 51, Section 003 to learn more about the rules surrounding foreclosure in this state, including deficiency balances (Property code § 51.003-51.005). Texas has no anti-deficiency rule. See also the Bills.com resource Texas Mortgage Deficiency Balance to learn more.
Texas Payday Loan Collection
See the Bills.com resource Payday Loans & Hot Checks in Texas to learn how Texas law protects consumers of payday loans.
Recommendation
Consult with a Texas attorney experienced in civil litigation, consumer law, or bankruptcy to receive precise answers to your questions about liens, levies, and garnishment in Texas.
Thanks for your feedback!
Tool Box Easy to use resources to help you find solutions to your money questions