Compare Home Insurance Quotes
Find home insurance coverage to keep your home and family safe.
Best Home Insurance Offers For You
To compare home insurance rates,
enter your ZIP Code
What is Home Insurance?
Home insurance, also known as homeowners insurance, protects you by covering costs associated with damage to or the loss of your home, other structures on your property, and certain personal property within your home. Home insurance doesn't cover every cause of damage. Commonly, your insurance covers damage or loss associated with fire, smoke, vandalism, theft, and storm damage.Standard home insurance doesn't cover losses you suffer due to floods or earthquakes. However, you can get special insurance to cover those problems. Liability coverage is also common to home insurance, protecting you if someone is injured on your property.
Why do I need home insurance?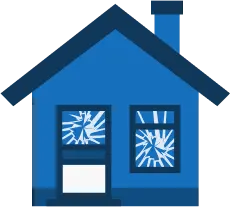 Your home is a valuable asset. Home insurance provides a financial safety net in the case of damage to your home, your belongings, or to a third-party.Home insurance protects you in the case of damage from fires, accidents, and disasters, resulting in significant expenses. Even if you don't have a mortgage, it is wise to protect yourself with the proper home insurance coverage.
How much does home insurance cost?
The cost of home insurance depends on many factors besides the location (state) and your home's value. Other factors include your deductible size, your home's condition, the value of the personal property you insure, and personal information like your credit score.Your coverage should be sufficient to rebuild your home. The cost of rebuilding your home is not the same as your home's value, because you won't need to replace the land. You want to cover rebuilding the structure and replacing specific contents that are damaged or a total loss.
Best Home Insurance Offers For You
To compare home insurance rates,
enter your ZIP Code