Compare Life Insurance Quotes
Find the life insurance coverage that protects you and your family's financial needs.
Best Life Insurance Offers For You
To compare life insurance rates,
enter your ZIP Code
What is life insurance?
Life insurance is a financial tool to help guarantee income for beneficiaries in the case of the policyholder's death. The policyholder pays premiums to the life insurance company based on the amount and type of coverage.Life insurance coverage can continue to pay a mortgage, college costs for children, and provide enough money to cover living expenses.The beneficiary can set the payout amount of money specified by your policy, paid in either a single lump sum or regular, periodic payments.
What are the types of life insurance?
There are two main types of life insurance you need to review, and then decide which best fits your needs. They are term life insurance and permanent life insurance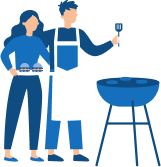 Term Insurance
Term insurance pays out to the beneficiary in the case of the death of the policy owner. This is the cheapest type of life insurance because once you stop making payments, there are no benefits. Like all life insurance, the premium you pay is based on your age. The older you are, the higher the premium. One common reason people take out term life insurance is to cover a massive debt, such as a mortgage, in the case of the borrower's death. The borrower ensures that the family will not be burdened with monthly payments, or a large debt, in the case of their death. Once you stop making the payments, all of your benefits are terminated.
Permanent Life Insurance
Permanent Life Insurance provides coverage until the death of the insured. Permanent insurance builds cash value over time as a portion of the premium is stored or invested. The policy owner can either withdraw the cash value or surrender the policy and receive the "surrender value" – the amount of the cash value minus penalties. Two common types of permanent life insurance are Whole Life and Universal Life insurance.
Whole Life Insurance
Whole life insurance provides coverage at a level premium and includes a cash value table that the insurance company guaranteed. If you want insurance that never expires and eliminates your investment risk, a whole life insurance plan may make sense.
Universal Life Insurance
Universal life insurance provides the permanent insurance coverage of whole life with greater flexibility in premium payments and the potential for more significant cash value growth. Universal life is ideal for somebody who wants a life insurance plan that never expires and is comfortable making investment decisions and taking risks.
Learn more
Best Life Insurance Offers For You
To compare life insurance rates,
enter your ZIP Code
How much life insurance do you need?
The amount of life insurance you need is going to change over your life. The amount you need depends on your income, family status, age and life-event cycle, and financial net worth. Here are a few examples of when it is vital to analyze your life insurance needs:

Get married
Buy or improve a home
Start a business
Plan a child's college education
Change jobs
Plan your estate
The key to determining the amount you need is to calculate the amount of money you need to keep your family and beneficiaries financially safe. Your life insurance policy should cover significant debts, such as a mortgage and replacement income, in the case of your death. One tool you can use is Fidelity's Insurance Need Estimator.It is advisable to review your insurance need during a financial check-up and periodically review if you have adequate life insurance coverage.
How to shop for life insurance
Follow these four steps when shopping for life insurance.
1.
Determine Your Needs
Do others depend on your income? If you pass away, how much money would they need to cover basic expenses, and for how long?
2.
What Can you Afford?
Find the right balance between the coverage level you want to provide and the life insurance premium payment you can afford to pay each month.
3.
Choose a Type of Policy
Should you go with a term life policy or a permanent life policy? Most choose term life insurance. Weigh the pros and cons of each type to decide what's best for you.
4.
Shop Around
Life insurance is a very competitive market. Take the time to compare quotes from different providers, so you get the best deal and the right amount of coverage.
Should I buy life insurance if I am struggling financially?

Life insurance is an essential part of building your financial security. It is equally vital for anyone in financial hardship. Life insurance can protect your family and guarantee a source of funds to pay for a mortgage, college costs, or everyday expenses.When prioritizing all your insurance needs, consider what protects you the most broadly from a wide range of events, before adding more than the basics to any one area.However, especially when money is tight, it is crucial to make sure that you use your money efficiently and effectively. Combining the right amount of emergency funds, health insurance, and life insurance protects your family.
Best Life Insurance Offers For You
To compare life insurance rates,
enter your ZIP Code